Bryanna Clark Grogan's Vegan Feast Kitchen/ 21st Century Table: The kitchen journal of a vegan food writer.. I'm on Facebook and Twitter (see links in sidebar at right).
Sunday, July 15, 2007
COLD RED LENTIL & BULGUR KIBBEH IN LETTUCE CUPS + HOT KIBBEH PATTY VARIATION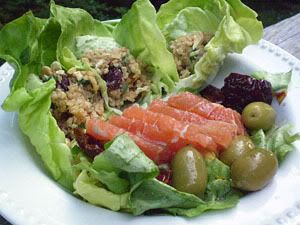 UPDATE Aug 3, 2011: It just occurred to me (duh!) that these are a form of kibbeh (see here for info on kibbeh), so I've changed the name of the recipe.




ALSO, I had some of the mixture leftover this week, and I tried making small patties out of it and browning them in a pan-- delish! See the recipe below for instructions and more pics.



I adapted this recipe (with what I had in the house) from a salad recipe in "Eating Well" magazine. I thought I had ruined it because I over-cooked the split lentils, so that they were mushy (to be fair-- this is very easy to do, since they cook so quickly!). The salad kind of stuck together like a pate. But I cooled it in the refrigerator and hoped for the best-- fortunately. It was more solid than a salad would be, so I decided to roll balls of it (loose balls) in the beautiful butter lettuce that we had just purchased here on Denman from Piercy Farm. Served with a bit more lettuce topped with juicy sliced grapefruit and olives (with a couple of sundried tomatoes on the side) in a balsamic vinaigrette, it was a filling and easy dinner for a hot summer evening! It was also delicious-- DH loved it!

Printable Recipe

COLD RED LENTIL & BULGUR SALAD KIBBEH WITH DRIED FRUIT IN BUTTER LETTUCE CUPS, AND HOT KIBBEH PATTY VARIATION
6 servings
1 1/2 cups water
1/2 tsp cinnamon
1/4 tsp salt
1 cup bulgur wheat (medium or #2)

1/2 cup split red lentils

1/4 tsp salt
1/2 cup chopped pitted dates
(You can use 1/2 dates and 1/2 prunes, if you wish.)
1/2 cup chopped pitted dried apricots (You can use 1/2 apricots and 1/2 dried cranberries, if you wish.)
1/2 cup chopped fresh parsley
1/2 cup chopped fresh mint
2 Tbs aquafaba or Fat-Free Oil Substitute for Salad Dressings (You can use olive oil, if you prefer, but the calories and fat and points will go up.)
1/4 cup fresh lime juice
2 Tbs grated lime zest
(You could use lemon instead if you don't have limes.)
FOR SERVING:
1 head butter lettuce, leaves separated, cleaned, spun and crisped well in the refrigerator

Bring water, cinnamon and 1/4 teaspoon salt to a boil in a small saucepan; stir in bulgur, remove from the heat, cover the pan and set aside until the water has been absorbed, about 30 minutes. Transfer to a large bowl.

Meanwhile, combine lentils and the remaining 1/4 teaspoon salt in a saucepan; add enough water to cover by 1 inch. Bring to a simmer and cook until the lentils are mushy, like dahl, and don't drain them.

Add lentils, dried fruit, parsley, mint, lime juice and zest, and
optional cashews and oil (if using)

to the bulgur. Toss well and chill for several hours.

When ready to serve, scoop out lumps of the mixture, roll them into balls and place them in crisp leaves of butter lettuce to serve. (I also added a dollop of my lowfat vegan mayonnaise which I had blended with a bunch of fresh basil and a bit of garlic, but that's optional.)



VARIATION-- HOT KIBBEH PATTIES:

Form the chilled balls into small patties and fry over medium-high heat in a nonstick skillet sprayed with olive oil from a pump sprayer until golden brown and crispy on both sides.
Eat (minus the lettuce) hot with the basil mayo.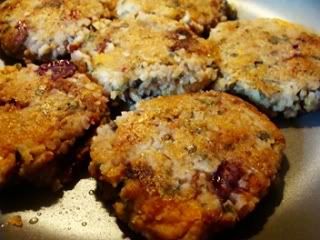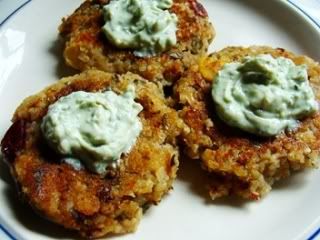 Nutrition Facts
Nutrition (per serving):
221 calories, 8 calories from fat, less than g total fat, 0mg cholesterol, 91.4mg sodium, 588.6mg potassium, 49.4g carbohydrates, 8.1g fiber, 10g sugar, 8.4g protein, 6.6 points.
Enjoy!

Posted by

Bryanna Clark Grogan
at 4:49 PM