Bryanna Clark Grogan's Vegan Feast Kitchen/ 21st Century Table: The kitchen journal of a vegan food writer.. I'm on Facebook and Twitter (see links in sidebar at right).
Tuesday, January 8, 2008
ABOUT SOY CURLS™ AND COOKING WITH FRESH PINEAPPLE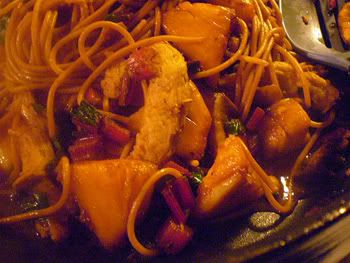 Last night I felt like having a light, Asian-style noodle dish, and I had a few ingredients that needed using-up-- namely, some sliced chard, what was left of a fresh pineapple, and two portobello mushrooms that wouldn't last too much longer. I also wanted something high in fiber and low in fat. Fresh Pineapple-Noodle Stir-Fry is what I came up with and it was delicious!
UPDATE: The recipe is in my new book World Vegan Feast.
To tell you the truth, I haven't used fresh pineapple that often before, but now we can get fresh organic pineapples for a decent price, so I've been buying one now and then. I'm experimenting with some fresh pineapple recipes for my (now defunct) quarterly newsletter, the Vegan Feast, which is why I had some left over.
Even though fresh pineapple can be very sweet, it also has a tartness that canned unsweetened pineapple doesn't have, making it a great addition to a savory dish such as the one below.
For the protein component in this dish, I used
Soy Curls
™, which I reconstitute in hot chicken-style veggie broth (I use equal measures dry Soy Curls™ and broth). However, in this dish you could use strips of any chicken-style vegan meat analog, including seitan; or Yves, MorningstarFarms, LightLife, or President's Choice stir-fry style "chicken" strips; or grilled or fried tempeh strips; or strips of baked seasoned tofu.
What are these Soy Curls™ I keep mentioning and why do I like them so much? (PS: I do not get a commission for this endorsement, nor do I sell them!)
They are somewhat like dried textured soy protein, but superior in texture and also less processed. They are made from WHOLE (non-GMO) soybeans, so they contain all the fiber, and have no additives or preservatives.
(For this reason, I freeze them, even though they are a dried product, to prevent rancidity.)
When reconstituted in hot broth (which takes only 5 minutes or so), the strips are like tender chicken (though you could flavor them differently). (
I usually reconstituted more than I am using at that particular time and freeze the remaining for really quick meals.)
They are very versatile and wonderful for stir-fries, casseroles, etc.. You will see a number of recipes I have developed for them on this blog (Update: and in my new book,
World Vegan Feast
).
Because I have to order them by mail, I buy them in bulk, in a 12 lb. box, which I usually split with a friend.
I only have to order them 2 or 3 times a year. You can find out where to buy them in Canada and the USA
on this page
.
amazon.com
usually carries them.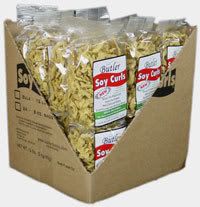 HERE ARE THE SOY CURL RECIPES ON THIS BLOG: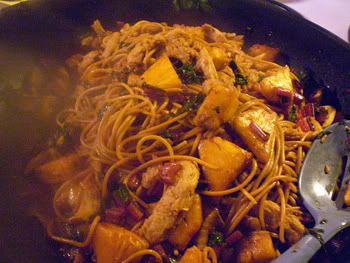 Posted by

Bryanna Clark Grogan
at 7:19 AM